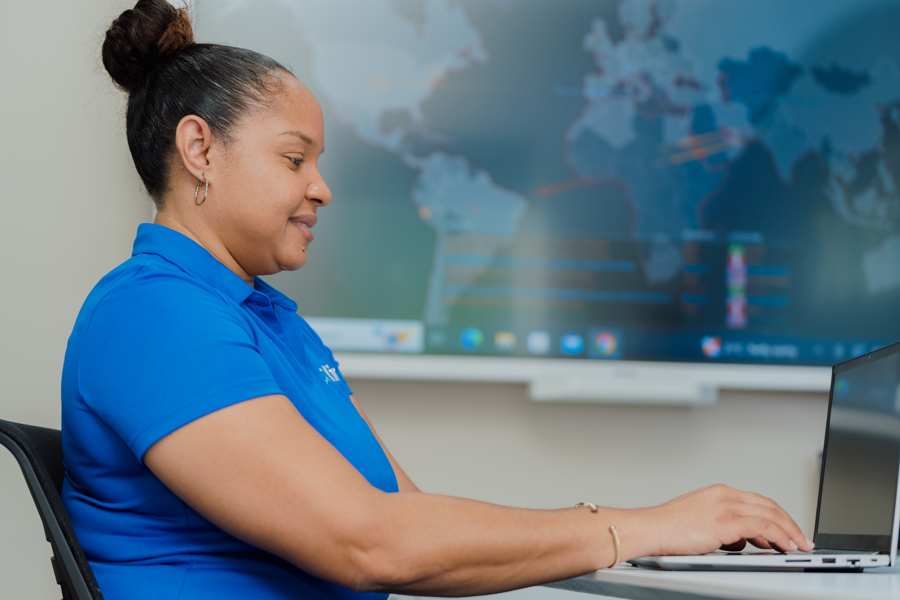 IT Services in the
Cayman Islands
Whether you need specialised IT skills or just some extra bandwidth to complete a project, our IT engineers are ready to help. Don't have an IT team in-house? We can help. Our managed IT services provide an entire team of IT professionals often for less than the cost of a single full-time staff member.
Get to Know Some of Our Most Popular IT Services
Business Continuity & Data Protection
Data loss can be fatal to a business. We'll ensure you're backed up with the right technologies so that you don't miss a beat. 
Keep your team connected with customers and each other. Our telephony services cover everything from desk phones to unified communications across voice, text and video.
We provide support for all your server and storage needs. We streamline processes and simplify the management of your cloud deployment or datacenter.
The threat landscape is growing in scope and complexity. Our cyber security services monitor for threats and proactively remediate your cyber weaknesses.
Get the help you need to manage the ever-growing number of devices, users, and access controls to keep your team connected securely no matter where they work.
Hardware Procurement & Installation
As a certified partner of some of the biggest names in technology, we handle every aspect of your IT hardware needs including sourcing, logistics, installation, maintenance and repairs.
Helpdesk & End User Support
Choose from on-site or remote support options. Our engineers troubleshoot and resolve day-to-day technical issues, reducing downtime and keeping your team operating at peak productivity.   
Network equipment installation, monitoring, maintenance and optimisation services that keep your team connected and secure.
Software Procurement & License Management
Unused software licenses are an unnecessary burden on your budget. We document and maintain your licenses, making the most of your IT investment. 
Temporary & Ad Hoc IT Support
Whether you need specialised IT skills for a one-off project or vacation cover for existing staff, count on us to be there for you.
Get Total Coverage with Managed IT Services
When you need ongoing, proactive IT support, count on us to deliver. We provide an array of managed IT services at a predictable cost, so you can get back to what's important – your business.
Rest easy knowing that your data is backed up using the latest tools and methodologies. Should the unthinkable happen, be back up and running an hours, not weeks. 
24/7 threat monitoring across your environment. Alerts are prioritised, investigated and remediated by a team of cyber security experts in minutes.  
Remote work and IoT don't need to be a challenge. Gain a secure, reliable, scalable network designed, built and supported by experts for the performance you need.
Benefit from a feature-rich office phone system and only pay for what you need. Managed voice is a great option no matter if you have 3 lines or 30.  
Why Kirk ISS for IT Services?
Our IT experts are certified to deliver some of the most powerful business technologies around. You can trust our team of pros to get the job done the first time, every time.
Locally Based
IT Services
We are based in the Cayman Islands, which means you have quick and easy access to the IT skills you need whenever you need them, with a fast turnaround and consistent service levels.
As much or as little IT help as you need…
Whether you have a project that requires a specialized skillset or need to outsource your entire IT department, we're responsive to your needs.
We're a one-stop shop with deep expertise across virtually every area of the IT department. When you engage with us, we'll ensure that you have access to every subject matter expert you need to succeed.
"Kirk ISS continues to play a critical role in our Cayman Business IT support. They are very reliable, proactive and go above/beyond."
Don't settle… get IT services tailored to your unique needs.
Get in touch and let us take IT bottlenecks off your plate.