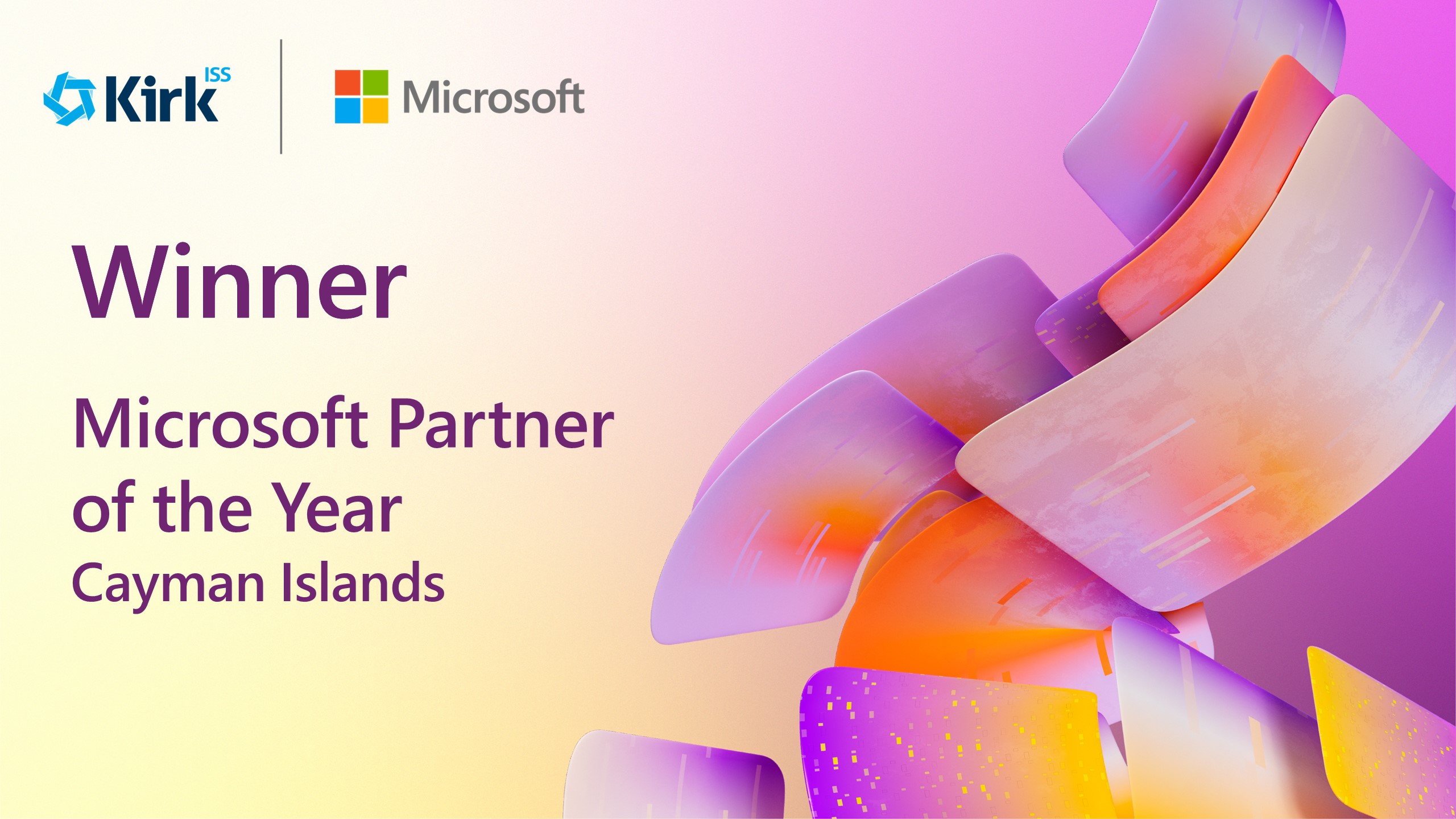 [GEORGE TOWN, Grand Cayman], [Cayman Islands] — June 28, 2022 — Kirk Information Solutions and Services (Kirk ISS) today announced it has won the 2022 Microsoft Country Partner of the Year Award for the Cayman Islands. The company was honored among a global field of top Microsoft partners for demonstrating excellence in innovation and implementation of customer solutions based on Microsoft technology.
As Managing Director Geoffrey Cuff explains, being awarded Partner of the Year from Microsoft is an important accomplishment for his team: "We are thrilled to have been recognized as the top solutions provider in the country yet again by a global leader like Microsoft. This award is thanks to the exceptional work of our IT engineering and customer success teams who work tirelessly to deliver world-class solutions to our customers. As a team, we couldn't be more pleased with this significant achievement."
The Microsoft Partner of the Year Awards recognize Microsoft partners that have developed and delivered outstanding Microsoft-based applications, services and devices during the past year. Awards were classified in various categories, with honorees chosen among more than 3,900 submitted nominations from more than 100 countries worldwide.
The Microsoft Country Partner of the Year Award acknowledges outstanding achievements and innovations from Microsoft partners at the country level, recognizing partners that have built solutions and services on the Microsoft cloud and who have had substantial growth in their customer base and/or revenue.
This year Kirk ISS was recognized for delivering security-centric Microsoft solutions in the Financial Services industry, a vital sector of the Cayman Islands' economy. These solutions used Microsoft technology to secure the systems of financial firms and helped to verify compliance with data protection regulations such as GDPR and the Cayman Islands Data Protection Act.
"I am honored to announce the winners and finalists of the 2022 Microsoft Partner of the Year Awards," said Nick Parker, corporate vice president of Global Partner Solutions at Microsoft. "These partners were outstanding among the exceptional pool of nominees and I'm continuously impressed by their innovative use of Microsoft Cloud technologies and the impact for their customers."
Microsoft Partner of the Year Awards are announced annually prior to the company's global partner conference, Microsoft Inspire, which will take place on July 19-20 this year. Additional details on the 2022 awards are available on the Microsoft Partner Network blog: https://blogs.partner.microsoft.com/mpn/congratulations-to-the-2022-microsoft-partner-of-theyear-awards-winners-and-finalists 
The complete list of categories, winners and finalists can be found at https://partner.microsoft.com/en-us/inspire/awards.